Eating a mixture of foods helps our children keep lunchtime interesting. It also encourages a healthy, balanced diet since different foods have their own nutrient mixes, and offers a wide variety of macronutrients (proteins, fats, and carbohydrates) and micronutrients (vitamins and minerals) for daily meals. Simply incorporating variety into your child's daily meal will ensure that you have a great balance of nutrients and food groups.
If you're packing lunch boxes from home, we've got you covered with these simple, healthy lunchbox recipes inspired by the Guide Academy Lunch Menu Suggestions.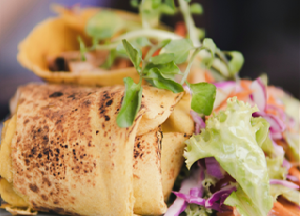 1)Salad Wrap
This impressive vegetarian salad wrap takes no more than 5 minutes to prepare and includes all the macronutrients your child needs for their day.
(serves 1)
You'll need:
– 1 tortilla wrap
– 2 tbsp hummus
– 1 lettuce leaf
– ¼ grated carrot
– 2 avocado slices
– 1 tbsp fresh tomato salsa
– Handful of grated cheddar
Instructions

• Lay the tortilla wrap flat out and spread the hummus over the bottom third. Put the lettuce above the hummus and arrange the carrot and avocado on top of the lettuce. Then, sprinkle the grated cheese on top.
• Fold the bottom of the tortilla over the filling, fold the sides in and then roll the rest of the wrap-up. You can either put it straight into the lunchbox or, if halved, wrap it in wax paper before putting it in.
 2)Burrito Bowl
This colourful prawn burrito bowl is full of zing, and it provides four of your child's 5-a-day! It takes 15 minutes to prepare (plus the time to pickle).
(serves 2)
You'll need:
– ½ small bunch of roughly chopped coriander
– 2 tbsp low-fat crème fraiche
– 2 large, chopped tomatoes
– 1 avocado, stoned, peeled, and sliced
– 200g of drained sweetcorn
– 400g drained, and rinsed kidney beans
– 4 finely sliced spring onions
– 1 lime, zested and juiced
– 250g cooked rice
– ½ tsp caster sugar
– 2 tbsp apple cider vinegar
– 1 fine sliced red onion
Instructions
• Mix the red onion with vinegar, and sugar, and add a pinch of salt. Cover and leave to pickle for at least an hour. Prepare the prawns by mixing the chipotle paste, honey, lime juice and zest and oil together, then toss in the prawns until they are covered in the mixture.
• Put the rice into a large bowl and mix in with the lime juice and zest, the spring onions and the kidney beans. Season them lightly. Spoon the mixture into two shallow bowls.
• Top the rice with the pickled red onions, spiced prawns, sweetcorn, and sliced avocado. Spoon the crème Fraiche on top, then serve with coriander sprinkled above.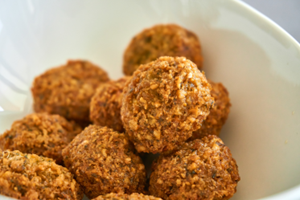 3)Falafel Lunchbox
This falafel salad takes 10 minutes to prepare and comes with lots of individual elements, making it a great option for toddlers and young children!
(serves 3)
You'll need:
– ½ lemon, quartered
– Drizzle of olive oil
– 4 tbsp hummus
– 12 falafels
– 10 olives (optional)
– 1 pomegranate (seeds only)
– 2 grated carrots
– Handful of cherry tomatoes, halved
– ¼ chopped cucumber
– Handful of baby spinach
– 250g pouch of cooked grains
Instructions
• Divide the grains between the lunchboxes. Top each one with the vegetables, falafel, a spoonful of hummus, and a drizzle of oil. Put a lemon in each box to squeeze over just before eating.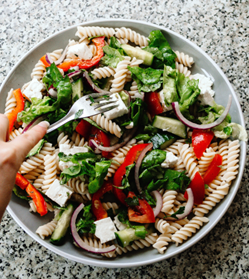 4)Lunchbox Pasta Salad
There's nothing like a pasta salad to energise your child and get them through their day. This recipe takes only 15 minutes to prepare and includes all the micronutrients and macronutrients your child needs!
(serves 4)
  You'll need:
– 1 tbsp mayonnaise
– 2 tbsp Greek yogurt
– ½ lemon, juiced
– 200g mixed cooked veg such as peas, green beans, courgette (chop the beans and courgette into pea-sized pieces)
– 100g cherry tomatoes, quartered
– 200g cooked chicken, prawns, hard-boiled egg, or cheese
Instructions
• Cook the pasta in boiling water for about 11 minutes until it is al dente. Drain and pour it into a bowl. Stir the pesto in and leave it to cool.
• When the pasta is cool, stir in the mayo, yogurt, lemon juice, and vegetables. Spoon it into the lunchbox and put the cooked chicken above. Leave it to chill until ready to eat.
5)Chicken with Spanish-style butter beans
Still looking for lunchbox inspiration? This healthy chicken and butterbean salad serves your child four of their 5-a-day in a fun way!
(serves 2)
You'll need:
– 2 roasted garlic cloves
– 1½ tbsp olive oil
– ½ lemon, zested and juiced
– ½ tsp smoked paprika
– 400g can of butter beans, drained and rinsed
– 2 roasted peppers, sliced
– 150g cherry tomatoes, halved
– 100g rocket
– 150g leftover roast chicken
– 25g feta
Instructions
• Squeeze the garlic out the skin and whisk together the lemon zest, smoked paprika, juice, oil, and some seasoning in a large bowl. Add in the butter, beans, tomatoes, peppers, and rocket and mix it all.
• Divide between lunchboxes and top with the chicken on one side and crumble over the feta.